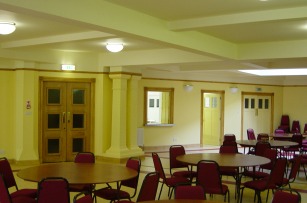 Halls Location
St Mary's Cathedral Halls are situated on Huntly Street, near Aberdeen's main thoroughfare, Union Street. All members of the community and groups are welcome. You do not have to be a member of St Mary's Cathedral to use the Halls.
The entrance from Huntly Street is ramped, to provide easy access to all, and the ground floor has ramping throughout.
Main Hall
This spacious hall is situated on the ground floor, making access easy for all. Suitable for up to 100 people. Linked to the hall is a modern, well-equipped kitchen. Comfortable upright chairs, and rectangular or round tables, are available for use by groups.
Lower Hall
Access to the lower hall is by stairs located on the right inside the main entrance. Suitable for up to 50 people. It has a facility for making tea or coffee. There is a hoist to transport small items, such a food, from the main hall. Comfortable upright chairs, and rectangular or round tables, are also available for use by groups.
Facilities
Access for all to main hall
Disabled toilet
Use of kitchen
Baby changing facilities
Refreshment services available
Tables and chairs
Meeting equipment (includes audio/visual system with projector screen)
Outside catering by arrangement
Janitor service
Terms Of Booking
Either hall is available for booking on a regular weekly or monthly basis; also for occasional use. The halls are open from 9.00am until 10.00pm (with extension, if appropriate). Before making a booking please read the following terms and conditions.

 Terms and Conditions of Hall Booking
---
Hall Charges
Main Hall
                                
Maximum capacity 100 persons.

Hourly Rate: £35.00 or £30.00 for regular users
Optional additions:

Use of Kitchen: £25.00
Use of Audio/Visual Equipment: £25.00.
Lower Hall

Maximum capacity 50 persons.
 
Hourly Rate: £30.00 or £25.00 for regular users
Upper Hall
Maximum capacity 25 persons.
 
Hourly Rate: £20.00 or £17.00 for regular users.



In accordance with Government guidelines the hirer is responsible for keeping a register of the names and contact details of anyone attending their event or meeting. This register should be kept for a period of 21 days.
The hirer is also responsible for sanitising the hall after use ie chairs, tables, work surfaces etc. Sanitising materials ie sanitiser and disosable cloths are provided for this purpose.

We would also advise all participants to maintain 1 metre distancing when possible and to wear a mask or face covering when moving about the halls.

The time required for setting-up and the time required for cleaning after the event must be figured into the total cost of the hire. Should you exceed your allocated time additional charges will be made.

The cost of the hire should be paid at least two weeks before the event at which time you will receive a notice of acceptance of your booking. Failure to meet this deadline will mean cancellation. If the hall is required in less than two weeks, payment is due on booking.
---
Hall Booking Form